Dealing with harsh conditions in winter is never fun. Snow can pile up on your lawn, your grasses can get dry, and dry wind can damage your trees and shrubs. But that doesn't mean your landscape should be abandoned. You don't have to give up on your curb appeal because it's snowing and cold. Customers love businesses that are consistent with their curb appeal, and you should be.
Thankfully, there are many ways you can make your commercial landscape look attractive throughout winter. We've put together these tips to help you improve your commercial curb appeal during winter. Say goodbye to boring winter landscapes! Enhance your commercial landscape with these ideas.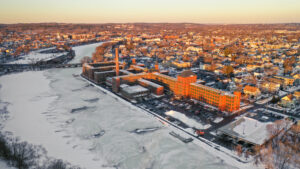 Even though grasses will be brown and dormant in winter, they still need your care and attention. If you don't take care of your grasses in winter, your lawn will look messy and less appealing. Every simple maintenance practice, from removing dirt and fallen leaves on the lawn to seeding and sodding, will keep your lawn tidy and healthy. Good lawn maintenance can also help your grasses grow faster in spring. 
To keep your lawn in good shape till the next season, protect your lawn from salt damage, water the grasses, and minimize soil compaction. Also, simple practices like aerating and fertilizing the soil will ensure that your lawn has enough nutrients and air to survive the drought. Likewise, stopping people from trampling the lawn will keep your grasses alive till spring. Clear the snow and ice on pathways and sidewalks to keep people from finding alternative routes on the lawn.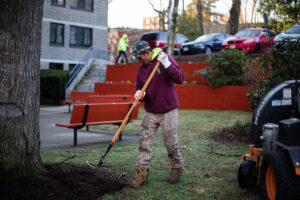 Nothing makes a commercial landscape look unkempt in winter quickly than an excessive amount of snow on the landscape. Keep your landscape neat by clearing excess snow. This involves shoveling the snow on your walkway and the driveway. Of course, using a snowblower is an easier and faster way to keep paths clear and safe.
Before you start clearing the snow, make plans about where the excess snow will go. Do you have enough space on either side of your driveway, or do you need to find somewhere else to dump the snow? Consider the amount of snow you get every winter, and ensure you have enough space to dump the snow. 
An easy way to get the burden of snow removal off your shoulders is to hire a company that will remove the excessive amount of snow without damaging your landscape. Snow removal experts use techniques to keep your grassy areas, parking lots, and sidewalks intact after clearing the snow.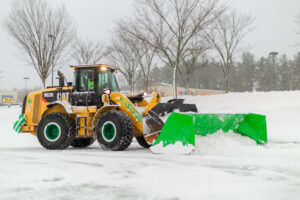 Winter comes with the loss of color because of the fallen leaves and flowers. That means your commercial landscape will stay bleak in winter if you don't add some colors. Think of evergreen plants to make your landscape colorful and inviting. These plants won't shed their leaves and flowers in the winter months, and they will make your commercial landscape unique. Adding evergreen or colorful plants can make your landscape warmer and more welcoming. 
Examples of the colorful plants you can add to your landscape in winter include Witch Hazel, Sweet Alyssum, Coral Bark Japanese Maple, American Wintergreen, Winter Heather, and more. However, some of these plants might not bloom until February or March (depending on how harsh the weather is) when you plant them in winter. So, you can opt for evergreen potted plants like Sarcococca, Buxus, and Skimmia. Seek the professional advice of a business landscaper for the type of plants you can select for your commercial landscape. As an expert, a commercial landscaper will choose the right plant for your landscape and weather.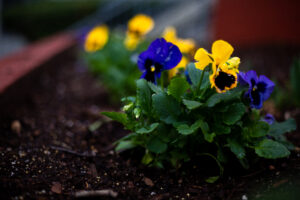 Winter comes with short days and early sunset. The days get darker, and visitors might need help to notice the gorgeous details of your commercial building. To secure your commercial property and make it alluring, brighten your landscape with some lighting. 
Exterior lighting, such as outdoor lamps and Christmas tree lights, are not just welcoming and beautiful — they promote security and safety too. They illuminate your environment at night, significantly reducing the chances of break-ins or attacks.  
Wondering what type of lighting is best for your property? There are many types of outdoor lighting you can use in winter. Holiday or Christmas lights, Parking Lot and Flood Lights, and LED Wall Pack Lights are great options. If you're worried about the energy consumption of the lights, change the bulbs to energy-efficient bulbs, and light up!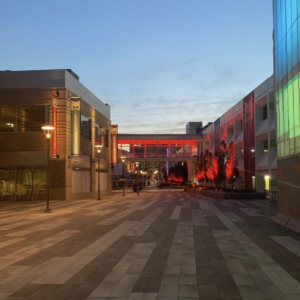 Prune Your Trees and Shrubs
Deciduous trees and shrubs lose their leaves in fall and become dormant in winter, giving your landscape a dreary and lifeless appearance. Pruning dead, overgrown, or unwanted branches of these trees and shrubs in winter will make your landscape look better. Getting the plants back to their natural shape will create more spaces between the plants and make your landscape look fresher, improving your curb appeal. 
Pruning your plants not only improves your property's curb appeal; it protects and strengthens them too. Proper trimming helps plants grow stronger and faster in spring—they tend to produce more vigorous flowers and foliage when you prune the old parts in winter.  
Pruning is indeed beneficial, but not all plants need trimming. Pruning some plants can affect their chances of survival. For effective pruning, you can seek help from a business landscaper. Experts are experienced in identifying the plants that need pruning, and they know the most appropriate trimming technique. Besides, landscape experts have better tools than the average gardener. Their sophisticated tools can prune branches without damaging the plant. Hiring a business landscaper will improve your winter landscape, protect your plants, and prepare your landscape for spring.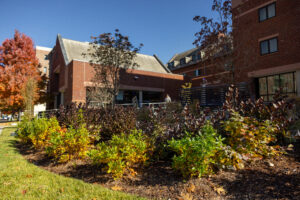 Professional Care You can Rely on
We know the snow and ice in winter can ruin your landscape. And we are committed to making commercial property owners happy this winter by keeping their landscapes safe and clear. From snow removal to planting colorful plants, LEI corporation will keep your commercial property looking its best in winter. As a creditable New England landscaper, we've been making commercial property owners and managers smile for decades. Call us at (866) 649-4368 or (508) 865-4367. We look forward to making you happy!