As a commercial property owner or manager, you need to maintain your property and keep it clean to keep your building inviting. When winter comes and snow piles up on your landscape, keeping your environment in good condition becomes more difficult and time-consuming. 
You know how essential it is to keep your employees and clients safe in winter, not only to avoid injuries but to maintain the productivity of your business. And frankly, you want more customers to come to you in winter but don't know how to improve your curb appeal. Snow Management can help you solve the puzzles. 
Snow management offers many hard-to-ignore benefits, and we have outlined the top five below. Read on to learn how effective snow management can help you this winter.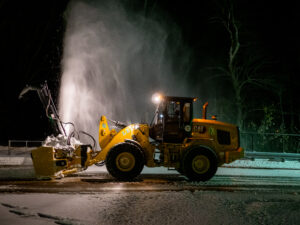 Improve the Aesthetic Appeal of your Commercial Property
Let's face it: everyone loves an attractive curb appeal. But it comes at a price — snow removal and landscape maintenance. Keeping up with both tasks in winter can be challenging and yet rewarding. When snow piles up, it can make your commercial property look unattractive. Snow piles can also accumulate dirt and debris, making your surroundings look untidy. Besides, excess snow in your surroundings can hide some of the holiday decorations on your property. 
When you have snow piles on your parking lot, it covers spaces where customers can park. And some clients can get discouraged from patronizing you when they can't find a place to park their vehicles. Clear the snow on your landscape and your parking lot to make your commercial property look its best this winter. Not only will this make your property appealing, but it will also create more spaces for customers and employees to park their cars.   
Hiring a professional snow management company to clear the excess snow around your property will simplify the whole process for you. They can handle everything, including where to dump the snow. This will improve the appearance of your building and, ultimately, keep your existing customers happy and attract new customers.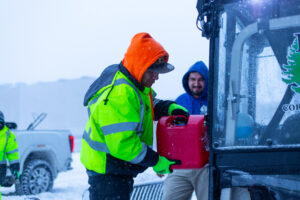 Keep Employees and Customers Safe
It's always advisable to make efforts to prevent anything that can lead to workers' or  customers' injury. The reason is obvious — adding avoidable incidents to your business responsibilities can make things more difficult. Snow management can prevent slips and falls that can lead to serious staff and client injuries. Moreover, the Occupational Safety and Health Administration (OSHA) stipulates that — all commercial property owners should keep their walkways clear as quickly as possible. 
Keeping your walkways clear shows that you care about your employees and value their safety. It's also good for your business's productivity. A slip and fall accident means one or more of your employees won't be working optimally or won't be at work at all (depending on the extent of the injury). If many employees are affected, this can significantly affect your business's productivity.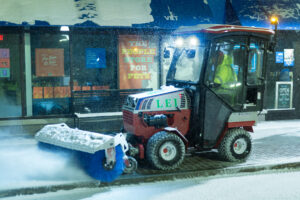 Protect Your Commercial Property from Damages
When left to build up, the cumulative effect of ice and snow can damage properties. The water from melting snow can damage hardwoods and other materials. Ice dams can also damage your roof, gutters, and shingles. Snow management can prevent damage from melting ice and ice dams. Getting rid of the snow and ice on time can keep materials intact. 
Commercial snow removal is not a task that a random person can do. It requires expertise and equipment. If snow and ice removal is not done correctly with the right tools, you might be putting your property at risk. An amateur might not understand what to avoid to keep your property in good condition while clearing snow. Or, the individual might not have the right tools to get the task done efficiently and safely.   
Additionally, snow removal products like deicers can cause damage to your properties. For instance, rock salts can ruin your pavement underneath. And there are many other dangerous products marketed as deicers out there. It takes vast knowledge in the field and experience to identify bad products. So you need to act fast and hire a professional company to save your commercial building from unnecessary damages that will cost you more money.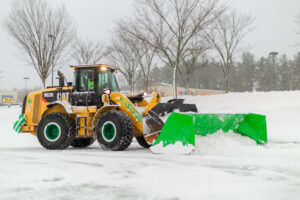 Keep Your Business Open and Operational
Even though we always want to keep our businesses running, the weather might make that challenging. Ice might accumulate on your pathways, and snow can cover your parking lot and walkways, obstructing both foot and vehicular movements. To make your commercial property accessible to both staff and customers always, you need to start snow management. 
With the help of a swift snow removal company like LEI Corporation, you can clear the ice and snow on your way in record time. However, it is better to be proactive by scheduling regular snow removal rather than waiting for the snow to pile up. Doing this will ensure that your business runs smoothly throughout winter.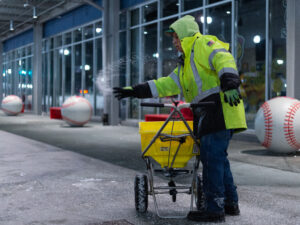 Maintain Your Business's Reputation
Consistency is essential to be successful in business. Keeping your environment clean in summer and abandoning it in winter is unacceptable. If you desire more brand loyalty, your commercial landscape shouldn't be neglected any season since it portrays the image of your business. That's why you need the services of experts to keep your outside clean. 
Talking about consistency, you need a reliable snow removal company in New England to keep your environment tidy and attractive all season. Waiting till the last minute before getting snow management help is not a good call for your business. Having a "go-to" company will make maintenance easy for you in winter and beyond.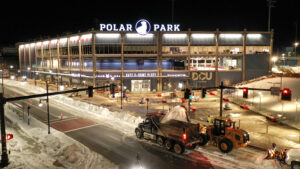 Choose LEI for the Snow Management of Your Commercial Property
Working with a snow management professional is crucial in winter. LEI Corporation is a commercial outdoor service provider you can trust for commercial snow management in New England. We can make your property inviting, protect your property from damage, maintain a safe environment, keep your business running, and maintain your reputation. Make your business thrive this winter by hiring us to take care of your surroundings. We are just a call away!