[et_pb_section fb_built="1″ next_background_color="#ffffff" admin_label="Hero Section" _builder_version="4.10.1″ _module_preset="default" background_color="rgba(0,0,0,0.45)" background_image="https://www.leisite.com/wp-content/uploads/2016/04/banner-images.jpg" background_blend="overlay" background_enable_video_mp4="off" allow_player_pause="on" custom_padding="||46px|||" bottom_divider_style="arrow" bottom_divider_height="52px" global_colors_info="{}"][et_pb_row column_structure="1_5,1_5,1_5,1_5,1_5″ use_custom_gutter="on" disabled_on="on|on|off" admin_label="Mobile Upper Row" _builder_version="4.10.4″ _module_preset="default" background_enable_color="off" z_index="99″ width="100%" min_height="10px" height="10px" max_height="50px" custom_css_main_element="z-index: revert;" border_color_all="#999999″ border_color_bottom="#FFFFFF" global_module="7765″ saved_tabs="all" global_colors_info="{}"][et_pb_column type="1_5″ _builder_version="4.10.1″ _module_preset="default" global_colors_info="{}"][et_pb_blurb use_icon="on" font_icon="||divi||400″ icon_color="#FFFFFF" icon_placement="left" image_icon_width="24px" disabled_on="on|off|off" admin_label="Contact Number" _builder_version="4.13.0″ _module_preset="default" body_font="|700|||||||" body_text_color="#FFFFFF" body_font_size="12px" body_link_text_color="#999999″ body_link_text_color_last_edited="off|desktop" icon_font_size="24px" global_colors_info="{}" body_link_text_color__hover_enabled="on|hover" body_link_text_color__hover="#00a653″]
(866) 649-4368 / (508) 865-4367
[/et_pb_blurb][/et_pb_column][et_pb_column type="1_5″ _builder_version="4.10.1″ _module_preset="default" global_colors_info="{}"][et_pb_blurb use_icon="on" font_icon="||divi||400″ icon_color="#FFFFFF" icon_placement="left" image_icon_width="24px" disabled_on="on|off|off" admin_label="Address" _builder_version="4.13.0″ _module_preset="default" body_font="|700|||||||" body_font_size="12px" background_layout="dark" icon_font_size="24px" global_colors_info="{}"]
200 Shrewsbury St. Boylston, MA
[/et_pb_blurb][/et_pb_column][et_pb_column type="1_5″ _builder_version="4.10.4″ _module_preset="default" global_colors_info="{}"][/et_pb_column][et_pb_column type="1_5″ _builder_version="4.10.1″ _module_preset="default" global_colors_info="{}"][et_pb_social_media_follow _builder_version="4.10.4″ _module_preset="default" text_orientation="right" custom_margin="0px||||false|false" custom_padding="0px||||false|false" global_colors_info="{}"][et_pb_social_media_follow_network social_network="facebook" url="https://www.facebook.com/LEICORPORATIONINC" icon_color="#999999″ _builder_version="4.10.4″ _module_preset="default" background_enable_color="off" global_colors_info="{}" follow_button="off" url_new_window="on"]facebook[/et_pb_social_media_follow_network][et_pb_social_media_follow_network social_network="instagram" url="https://www.instagram.com/leicorporation/" icon_color="#999999″ _builder_version="4.10.4″ _module_preset="default" background_enable_color="off" global_colors_info="{}" follow_button="off" url_new_window="on"]instagram[/et_pb_social_media_follow_network][/et_pb_social_media_follow][/et_pb_column][et_pb_column type="1_5″ _builder_version="4.10.1″ _module_preset="default" global_colors_info="{}"][et_pb_button button_url="@ET-DC@eyJkeW5hbWljIjp0cnVlLCJjb250ZW50IjoicG9zdF9saW5rX3VybF9wYWdlIiwic2V0dGluZ3MiOnsicG9zdF9pZCI6Ijc5MzcifX0=@" button_text="GET A QUOTE" button_alignment="center" _builder_version="4.10.4″ _dynamic_attributes="button_url" _module_preset="default" custom_button="on" button_text_size="13px" button_text_color="#FFFFFF" button_bg_color="#00a653″ button_border_width="5px" button_border_color="#00A653″ button_font="|700|||||||" button_use_icon="off" custom_margin="||||false|false" global_colors_info="{}" button_text_size__hover_enabled="on|desktop" button_bg_color__hover_enabled="on|hover" button_bg_color__hover="#FFFFFF" button_bg_enable_color__hover="on" button_border_color__hover_enabled="on|desktop" button_border_radius__hover_enabled="off|desktop" button_border_width__hover_enabled="on|desktop" button_border_width__hover="1px" button_border_color__hover="#00A653″ button_text_color__hover_enabled="on|hover" button_text_color__hover="#00A653″ button_text_size__hover="13px"][/et_pb_button][/et_pb_column][/et_pb_row][et_pb_row use_custom_gutter="on" disabled_on="on|on|off" admin_label="Divider" _builder_version="4.10.4″ _module_preset="default" width="100%" min_height="10px" height="10px" max_height="10px" custom_margin="||||false|false" global_module="7809″ saved_tabs="all" global_colors_info="{}"][et_pb_column type="4_4″ _builder_version="4.10.1″ _module_preset="default" global_colors_info="{}"][et_pb_divider color="#999999″ divider_position="center" _builder_version="4.10.4″ _module_preset="default" custom_margin="||||false|false" global_colors_info="{}"][/et_pb_divider][/et_pb_column][/et_pb_row][et_pb_row column_structure="1_5,3_5,1_5″ admin_label="Main" _builder_version="4.10.1″ _module_preset="default" width="90%" global_colors_info="{}"][et_pb_column type="1_5″ _builder_version="4.10.1″ _module_preset="default" global_colors_info="{}"][et_pb_image src="https://www.leisite.com/wp-content/uploads/2019/07/lei-est-logo01.png" alt="EST 1987 logo" title_text="lei-est-logo01″ disabled_on="on|on|off" _builder_version="4.10.4″ _module_preset="default" global_module="7810″ saved_tabs="all" global_colors_info="{}"][/et_pb_image][/et_pb_column][et_pb_column type="3_5″ _builder_version="4.10.1″ _module_preset="default" global_colors_info="{}"][et_pb_menu menu_id="28″ menu_style="centered" active_link_color="#00a653″ dropdown_menu_bg_color="#00a653″ dropdown_menu_text_color="#FFFFFF" dropdown_menu_active_link_color="#333333″ mobile_menu_bg_color="#333333″ mobile_menu_text_color="#FFFFFF" disabled_on="on|on|off" _builder_version="4.13.0″ _module_preset="default" menu_font="|800||on|||||" menu_text_color="#FFFFFF" menu_font_size="16px" background_enable_color="off" global_module="7811″ saved_tabs="all" global_colors_info="{}" active_link_color__hover_enabled="on|hover" active_link_color__hover="#00A653″][/et_pb_menu][et_pb_divider show_divider="off" _builder_version="4.10.4″ _module_preset="default" custom_margin="||20px||false|false" global_colors_info="{}"][/et_pb_divider][et_pb_text _builder_version="4.10.1″ _dynamic_attributes="content" _module_preset="default" header_font="|800||on|||||" header_text_align="center" header_font_size="45px" background_layout="dark" global_module="7869″ global_colors_info="{}"]@ET-DC@eyJkeW5hbWljIjp0cnVlLCJjb250ZW50IjoicG9zdF90aXRsZSIsInNldHRpbmdzIjp7ImJlZm9yZSI6IjxoMT4iLCJhZnRlciI6IjwvaDE+In19@[/et_pb_text][/et_pb_column][et_pb_column type="1_5″ _builder_version="4.10.1″ _module_preset="default" global_colors_info="{}"][et_pb_image src="https://www.leisite.com/wp-content/uploads/2020/10/woo-socks-logo.png" alt="woo sox logo" title_text="woo-sox-logo" disabled_on="on|on|off" _builder_version="4.10.4″ _module_preset="default" global_module="7812″ saved_tabs="all" global_colors_info="{}"][/et_pb_image][et_pb_text disabled_on="on|on|off" _builder_version="4.11.2″ _module_preset="default" text_font="|600||on|||||" text_text_color="#FFFFFF" text_font_size="14px" text_line_height="1.2em" text_orientation="center" text_text_shadow_style="preset5″ global_module="7813″ saved_tabs="all" global_colors_info="{}"]
THE OFFICIAL LANDSCAPE, SNOW, AND ICE MANAGEMENT COMPANY OF THE WORCESTER RED SOX
[/et_pb_text][/et_pb_column][/et_pb_row][/et_pb_section][et_pb_section fb_built="1″ admin_label="section" _builder_version="3.22″ global_colors_info="{}"][et_pb_row admin_label="row" _builder_version="3.25″ background_size="initial" background_position="top_left" background_repeat="repeat" global_colors_info="{}"][et_pb_column type="4_4″ _builder_version="3.25″ custom_padding="|||" global_colors_info="{}" custom_padding__hover="|||"][et_pb_text admin_label="Text" _builder_version="4.13.0″ background_size="initial" background_position="top_left" background_repeat="repeat" hover_enabled="0″ global_colors_info="{}" sticky_enabled="0″]
Just as quickly as summer came, it fades into fall as the days grow colder and the foliage turns into shades of bright oranges, yellows, and reds. Soon enough, you'll have to start thinking about cleaning up your commercial property once the leaves have fallen from the trees in preparation for the spring ahead. The last thing you'll want to think about once the snow thaws is a major cleanup to prepare your lawns and gardens.
Maybe you already have your snow removal plans in place, and while you don't need to worry about once the first snowflake falls, what will your property look like come the spring? If you don't clean up now, you'll have a lot more work to do when spring rolls back around.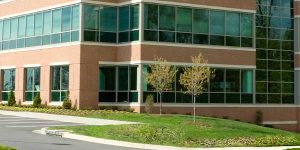 In the winter, leaves left covering your lawn can form a thick coat that suffocates grass and other plant growth underneath, and may even become an attractive home for pests that would further damage your lawn. A healthy lawn requires air to breathe, access to nutrients, light, and water, which can be reduced by thick leaves leftover from the fall. Start your fall cleanup with LEI Corporation to avoid unsightly brown and dead patches of lawn that are unattractive to your visitors.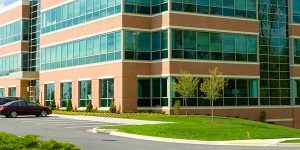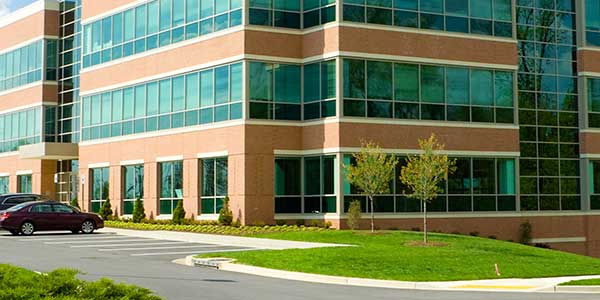 Beyond preparing your lawn this fall for next spring, LEI can help to expertly landscape your property. We can help to revitalize and beautify your properties with new trees, gardens, and flowerbeds. Making a good first impression is crucial to winning over any new potential customer visiting your property. Plus, as a business, consider creating attractive gardens and social areas for your employees to enjoy. They will love catching some fresh air in a well-designed space.
If your projects are looking a little beyond just cosmetically upgrading your property for spring, LEI can help you improve the infrastructure of your property as well. Whether you are looking to build or reinforce walls and curbs, or improve drainage infrastructure, we are ready for any last-minute preventative maintenance projects to protect your property through the winter months.
It is never too early to start preparing your property for the seasons ahead. Start this fall by getting your commercial property in tip-top shape for spring.
[/et_pb_text][/et_pb_column][/et_pb_row][/et_pb_section]