[et_pb_section fb_built="1″ next_background_color="#ffffff" admin_label="Hero Section" _builder_version="4.10.1″ _module_preset="default" background_color="rgba(0,0,0,0.45)" background_image="https://www.leisite.com/wp-content/uploads/2016/04/banner-images.jpg" background_blend="overlay" background_enable_video_mp4="off" allow_player_pause="on" custom_padding="||46px|||" bottom_divider_style="arrow" bottom_divider_height="52px" global_colors_info="{}"][et_pb_row column_structure="1_5,1_5,1_5,1_5,1_5″ use_custom_gutter="on" disabled_on="on|on|off" admin_label="Mobile Upper Row" _builder_version="4.10.4″ _module_preset="default" background_enable_color="off" z_index="99″ width="100%" min_height="10px" height="10px" max_height="50px" custom_css_main_element="z-index: revert;" border_color_all="#999999″ border_color_bottom="#FFFFFF" global_module="7765″ saved_tabs="all" global_colors_info="{}"][et_pb_column type="1_5″ _builder_version="4.10.1″ _module_preset="default" global_colors_info="{}"][et_pb_blurb use_icon="on" font_icon="||divi||400″ icon_color="#FFFFFF" icon_placement="left" image_icon_width="24px" disabled_on="on|off|off" admin_label="Contact Number" _builder_version="4.13.0″ _module_preset="default" body_font="|700|||||||" body_text_color="#FFFFFF" body_font_size="12px" body_link_text_color="#999999″ body_link_text_color_last_edited="off|desktop" icon_font_size="24px" global_colors_info="{}" body_link_text_color__hover_enabled="on|hover" body_link_text_color__hover="#00a653″]
(866) 649-4368 / (508) 865-4367
[/et_pb_blurb][/et_pb_column][et_pb_column type="1_5″ _builder_version="4.10.1″ _module_preset="default" global_colors_info="{}"][et_pb_blurb use_icon="on" font_icon="||divi||400″ icon_color="#FFFFFF" icon_placement="left" image_icon_width="24px" disabled_on="on|off|off" admin_label="Address" _builder_version="4.13.0″ _module_preset="default" body_font="|700|||||||" body_font_size="12px" background_layout="dark" icon_font_size="24px" global_colors_info="{}"]
200 Shrewsbury St. Boylston, MA
[/et_pb_blurb][/et_pb_column][et_pb_column type="1_5″ _builder_version="4.10.4″ _module_preset="default" global_colors_info="{}"][/et_pb_column][et_pb_column type="1_5″ _builder_version="4.10.1″ _module_preset="default" global_colors_info="{}"][et_pb_social_media_follow _builder_version="4.10.4″ _module_preset="default" text_orientation="right" custom_margin="0px||||false|false" custom_padding="0px||||false|false" global_colors_info="{}"][et_pb_social_media_follow_network social_network="facebook" url="https://www.facebook.com/LEICORPORATIONINC" icon_color="#999999″ _builder_version="4.10.4″ _module_preset="default" background_enable_color="off" global_colors_info="{}" follow_button="off" url_new_window="on"]facebook[/et_pb_social_media_follow_network][et_pb_social_media_follow_network social_network="instagram" url="https://www.instagram.com/leicorporation/" icon_color="#999999″ _builder_version="4.10.4″ _module_preset="default" background_enable_color="off" global_colors_info="{}" follow_button="off" url_new_window="on"]instagram[/et_pb_social_media_follow_network][/et_pb_social_media_follow][/et_pb_column][et_pb_column type="1_5″ _builder_version="4.10.1″ _module_preset="default" global_colors_info="{}"][et_pb_button button_url="@ET-DC@eyJkeW5hbWljIjp0cnVlLCJjb250ZW50IjoicG9zdF9saW5rX3VybF9wYWdlIiwic2V0dGluZ3MiOnsicG9zdF9pZCI6Ijc5MzcifX0=@" button_text="GET A QUOTE" button_alignment="center" _builder_version="4.10.4″ _dynamic_attributes="button_url" _module_preset="default" custom_button="on" button_text_size="13px" button_text_color="#FFFFFF" button_bg_color="#00a653″ button_border_width="5px" button_border_color="#00A653″ button_font="|700|||||||" button_use_icon="off" custom_margin="||||false|false" global_colors_info="{}" button_text_size__hover_enabled="on|desktop" button_bg_color__hover_enabled="on|hover" button_bg_color__hover="#FFFFFF" button_bg_enable_color__hover="on" button_border_color__hover_enabled="on|desktop" button_border_radius__hover_enabled="off|desktop" button_border_width__hover_enabled="on|desktop" button_border_width__hover="1px" button_border_color__hover="#00A653″ button_text_color__hover_enabled="on|hover" button_text_color__hover="#00A653″ button_text_size__hover="13px"][/et_pb_button][/et_pb_column][/et_pb_row][et_pb_row use_custom_gutter="on" disabled_on="on|on|off" admin_label="Divider" _builder_version="4.10.4″ _module_preset="default" width="100%" min_height="10px" height="10px" max_height="10px" custom_margin="||||false|false" global_module="7809″ saved_tabs="all" global_colors_info="{}"][et_pb_column type="4_4″ _builder_version="4.10.1″ _module_preset="default" global_colors_info="{}"][et_pb_divider color="#999999″ divider_position="center" _builder_version="4.10.4″ _module_preset="default" custom_margin="||||false|false" global_colors_info="{}"][/et_pb_divider][/et_pb_column][/et_pb_row][et_pb_row column_structure="1_5,3_5,1_5″ admin_label="Main" _builder_version="4.10.1″ _module_preset="default" width="90%" global_colors_info="{}"][et_pb_column type="1_5″ _builder_version="4.10.1″ _module_preset="default" global_colors_info="{}"][et_pb_image src="https://www.leisite.com/wp-content/uploads/2019/07/lei-est-logo01.png" alt="EST 1987 logo" title_text="lei-est-logo01″ disabled_on="on|on|off" _builder_version="4.10.4″ _module_preset="default" global_module="7810″ saved_tabs="all" global_colors_info="{}"][/et_pb_image][/et_pb_column][et_pb_column type="3_5″ _builder_version="4.10.1″ _module_preset="default" global_colors_info="{}"][et_pb_menu menu_id="28″ menu_style="centered" active_link_color="#00a653″ dropdown_menu_bg_color="#00a653″ dropdown_menu_text_color="#FFFFFF" dropdown_menu_active_link_color="#333333″ mobile_menu_bg_color="#333333″ mobile_menu_text_color="#FFFFFF" disabled_on="on|on|off" _builder_version="4.10.4″ _module_preset="default" menu_font="|800||on|||||" menu_text_color="#FFFFFF" menu_font_size="16px" background_enable_color="off" global_module="7811″ saved_tabs="all" global_colors_info="{}" active_link_color__hover_enabled="on|hover" active_link_color__hover="#00A653″][/et_pb_menu][et_pb_divider show_divider="off" _builder_version="4.10.4″ _module_preset="default" custom_margin="||20px||false|false" global_colors_info="{}"][/et_pb_divider][et_pb_text _builder_version="4.10.1″ _dynamic_attributes="content" _module_preset="default" header_font="|800||on|||||" header_text_align="center" header_font_size="45px" background_layout="dark" global_module="7869″ global_colors_info="{}"]@ET-DC@eyJkeW5hbWljIjp0cnVlLCJjb250ZW50IjoicG9zdF90aXRsZSIsInNldHRpbmdzIjp7ImJlZm9yZSI6IjxoMT4iLCJhZnRlciI6IjwvaDE+In19@[/et_pb_text][/et_pb_column][et_pb_column type="1_5″ _builder_version="4.10.1″ _module_preset="default" global_colors_info="{}"][et_pb_image src="https://www.leisite.com/wp-content/uploads/2020/10/woo-socks-logo.png" alt="woo sox logo" title_text="woo-sox-logo" disabled_on="on|on|off" _builder_version="4.10.4″ _module_preset="default" global_module="7812″ saved_tabs="all" global_colors_info="{}"][/et_pb_image][et_pb_text disabled_on="on|on|off" _builder_version="4.11.2″ _module_preset="default" text_font="|600||on|||||" text_text_color="#FFFFFF" text_font_size="14px" text_line_height="1.2em" text_orientation="center" text_text_shadow_style="preset5″ global_module="7813″ saved_tabs="all" global_colors_info="{}"]
THE OFFICIAL LANDSCAPE, SNOW, AND ICE MANAGEMENT COMPANY OF THE WORCESTER RED SOX
[/et_pb_text][/et_pb_column][/et_pb_row][/et_pb_section][et_pb_section fb_built="1″ admin_label="section" _builder_version="3.22″ global_colors_info="{}"][et_pb_row admin_label="row" _builder_version="3.25″ background_size="initial" background_position="top_left" background_repeat="repeat" global_colors_info="{}"][et_pb_column type="4_4″ _builder_version="3.25″ custom_padding="|||" global_colors_info="{}" custom_padding__hover="|||"][et_pb_text admin_label="Text" _builder_version="4.13.0″ background_size="initial" background_position="top_left" background_repeat="repeat" hover_enabled="0″ global_colors_info="{}" sticky_enabled="0″]
Snow removal can be time-consuming, tiring work, especially for businesses trying to impress their customers. Companies must clear snow from parking lots, sidewalks, entrances, driveways – it takes a lot of energy to keep all of these zones clear. This can consume valuable hours out of your employees' day that you could use elsewhere in the business. Professionally managed and maintained snow and ice removal services can save you time and money. Unfortunately, many business owners feel they can tackle this task on their own; however, this is not always the case for several reasons.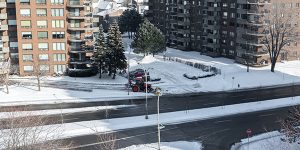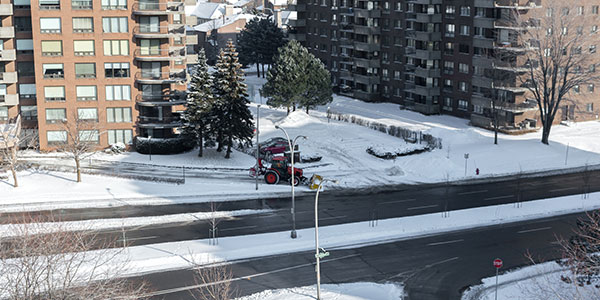 Cost Efficacy and Savings
Many businesses face a lack of capital to allocate funds towards commercial snow removal services. Although there are certain expenses associated with hiring a company – such as equipment rentals or employee wages – these expenses are often outweighed by the overall cost savings. LEI Corporation can provide you with a quote that fits your commercial snow removal needs at a price that matches your needs.
Employee Resources
Another issue many business owners have regarding snow removal is doing this in-house when the resources aren't available. Most companies are understaffed for this task – especially in the winter months. Outsourcing provides a company with access to professionals who work throughout the year so that you will have no delays during times of inclement weather. Snow removal can also be dangerous and can cause employee injuries on your clock when they are improperly trained or equipped for the task.
Decrease liability
Hiring a commercial snow removal company means less liability for you as a business. The risk associated with slip and falls – especially when accompanied by injuries – can lead to costly lawsuits against you. Snow removal pros make sure all snow is safely cleared from your sidewalks.
Reach higher levels of customer satisfaction
Expertise is one of the best reasons to hire a commercial snow removal company. With off-site experts like LEI Corporation running your snow removal, you'll have peace of mind knowing someone with years of experience will remove snow from rooftops or other difficult-to-access areas take a weight off your business's shoulders. Snow removal services make any commercial property more attractive and inviting to customers during the winter with less work on your part.
It can be challenging to manage snow removal for your commercial property. The site's size, location, and accessibility will all play a role in determining what equipment you need, but we are here to help. We have over 30 years' worth of experience managing properties with large amounts of snowfall each year, including ski resorts, universities, hospitals, and more! With the help of LEI Corporation, your commercial snow removal worries will be a thing of the past. Whether you need to clear sidewalks and parking lots or remove drifts from rooftops, we can handle it all for you.
[/et_pb_text][/et_pb_column][/et_pb_row][/et_pb_section]