A beautiful commercial landscape can bring you more customers and make your employees or tenants happy. However, making the landscape inviting in all four seasons, and not just in summer, is challenging. There are critical steps to ensure landscapes look good every season. If you're a commercial property owner or manager thinking about maintaining the beauty of your landscape during seasonal changes, here are five tips that will help you. 
Create a Plan
Making changes to your landscape without a bigger vision or goal may only benefit you temporarily. To reap long-term commercial landscaping benefits, you need a plan that'll accommodate your seasonal landscaping needs. With a solid plan in place, your landscape will attract and impress visitors every season. 
Getting great results by preparing for seasonal changes isn't a one-time event. It requires identifying and taking strategic actions consistently. Your landscaping plan should include a planting strategy that will ensure you have blooming plants not only in spring and summer but also in fall and winter. 
In addition, it is essential to highlight all the vital seasonal tasks needed to keep your landscape in good shape in your plan. Examples of these crucial tasks include — testing your irrigation systems in spring, mowing your lawn in summer, cleaning up leaves and debris in fall, and removing excess snow in winter. After listing these essential tasks, evaluate your needs and create a budget to help you achieve your landscaping goals. Consider your landscape design, type of plants, maintenance, and the hardscapes you need in your budgeting. 
Creating a seasonal landscaping plan can be difficult if you've never tried it before. A commercial landscape contractor's planning skills and experience can get you suitable recommendations and an effective strategy. 
Refresh Your Landscape 
Commercial landscapes can't be perfectly structured and attractive all season without intervention. You need to take action, and you need to start now. Refreshing your landscape by cleaning it, fixing damaged parts, and adding new plants is one of the best ways to start. 
Ready to refresh your landscape? Start by replacing your mulch. There are many benefits to refreshing your mulch. Fresh mulch will support your plant all season by retaining moisture and providing water for plants during drought. It also limits weed growth in summer. For long-lasting weed control, apply herbicide on the soil before applying the mulch. 
If your commercial landscape looks sloppy or bleak, add new plants to transform it into an inviting one. Replace dead or struggling plants on your landscape with fresh ones. In some cases, treatment or fertilization can help diseased plants recover. Alternatively, change the location of the plants to where they can have easy access to nutrients and sunlight. 
Other important tasks to freshen your lawn include regular irrigation, mowing, and edging. Reseeding bare patches on your lawn can also make a huge difference in your landscape's appearance. 
Choose the Right Plants for Your Commercial Landscape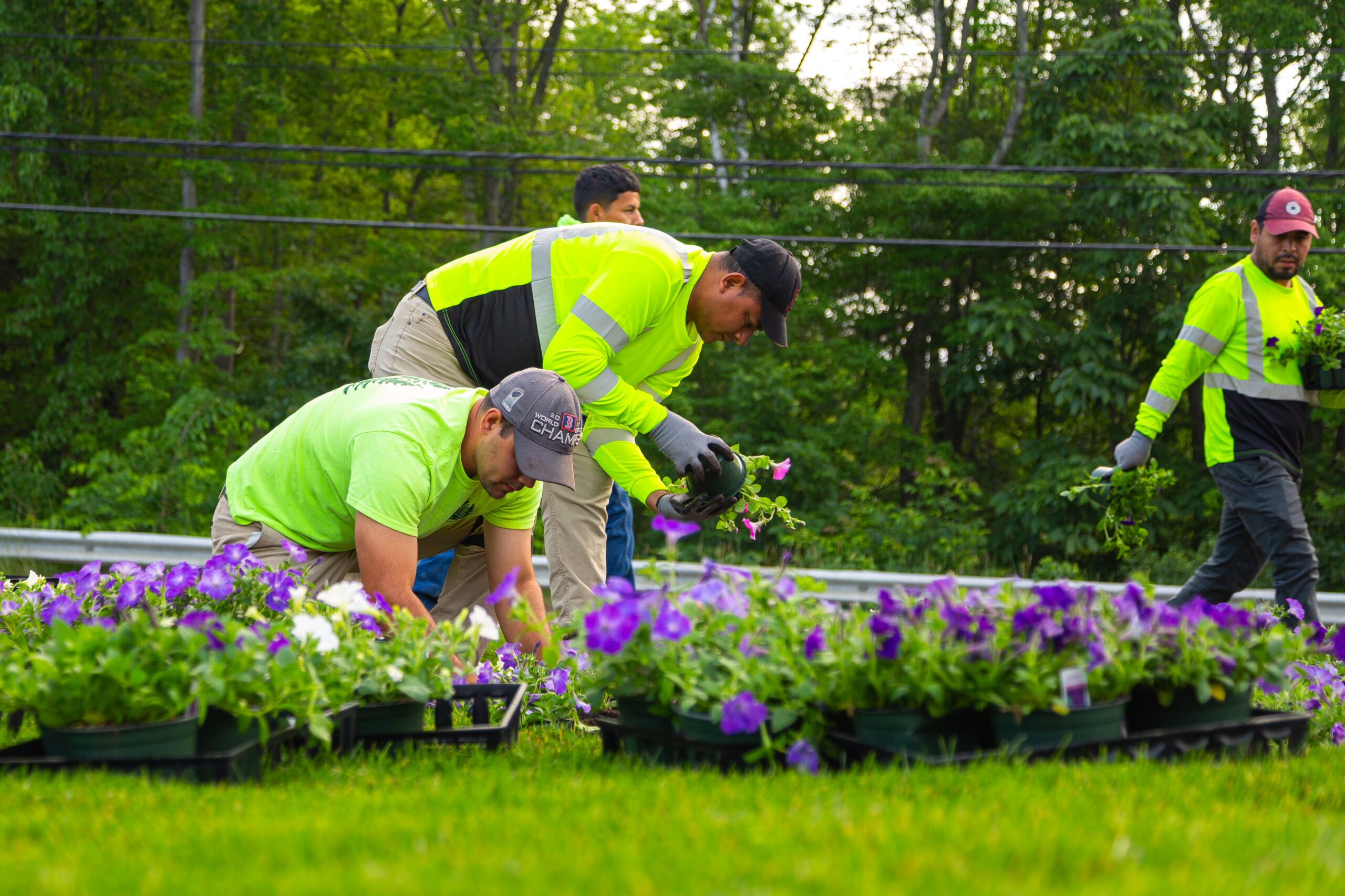 When it's time to add new plants to your landscape, your choices of trees, shrubs, flowers, and grasses can make or break the beauty of your landscape. Add seasonal color and texture to your commercial landscape with evergreens and native plants. And choose plants that match your company's identity to impress your visitors. Also, contemplate your commercial property's architectural design, location's climate, and landscape design before choosing a plant. 
As you select and add plants to your outdoor area, create focal points with gorgeous plants to direct and attract visitors. Select welcoming plants (with cool colors) to make visitors feel relaxed. And make sure the plants are placed where they'll be noticed. 
Since keeping your landscape appealing with colorful plants in all seasons is a strategic process, follow your planting schedule to plant at the right time. That way, you'll have enough time to prepare for plants needing special maintenance and attention, helping them put on their best show. 
To choose the plant that loves your climate, consult a local commercial landscaper to suggest admirable perennial and seasonal plants for your landscape. Don't forget that some plants might need special treatment to keep them alive, so ask for these requirements and keep them in mind. 
Maintain Your Landscape Regularly 
A good landscape maintenance practice is key to making your landscape attractive year-round. If you have a good landscaping plan, choose unique plants, and refresh your landscape at the start of a season but neglect regular maintenance, you'll ruin your good intentions for your commercial landscape. Poor maintenance can lead to a landscape design overhaul, costing you more money. 
Pruning overgrown, dead, or weak branches is one of the essential commercial landscaping maintenance practices. Leaving plants to overgrow makes landscapes look messy and abandoned. Besides, trimming trees, flowers, and shrubs helps them stay healthy every season. Regularly removing debris, broken branches, dead grasses, dry leaves, and other litter on your landscape is vital too.  
Hire a Commercial Landscaping Contractor 
Maintaining the beauty of your commercial landscape is not a walk in the park. You need to commit lots of time and effort to do it. Hiring a commercial landscaper is the ultimate solution to landscaping demands and troubles. From cleaning your commercial landscape in spring to removing the snow on your landscape in winter, commercial landscapers know how to transform a dull landscape into an attention-grabbing one. 
Paying for professional landscaping will save you time and make your landscape look awesome. This will impress your target clients and make them buy from you, yielding a great return on investment. It will also make you worry less about keeping your landscape in good shape yearly. 
Keep Your New England Commercial Landscape Beautiful all Season With LEI Corporation 
Over the years, LEI Corporation has built a reputation as one of the best commercial landscaping companies in New England. We have the experience, proficiency, and tools to make your commercial landscape appealing all season. And we always strive to satisfy our client's landscaping needs and desires. Contact us today to start your journey of making your commercial landscape phenomenal throughout the year.